First-thing to consider in merchandising : fabrics
Published : 02/03/2020 - Categories :
Tips
Reading time: 7min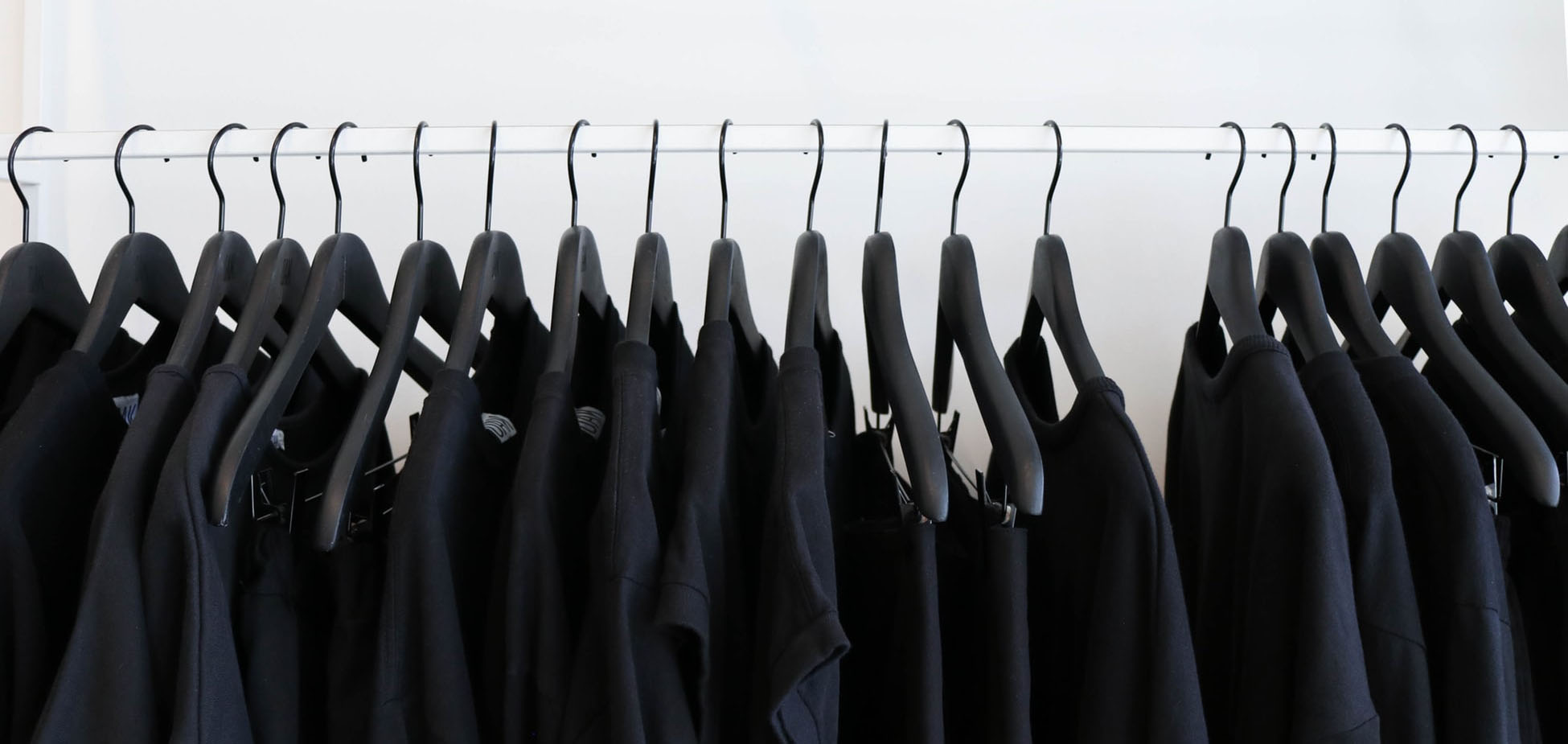 At Distrolution Merch, we offer many products in textile merchandising. But you must probably ask yourself: "How do I choose between short-sleeved or long-sleeved t-shirts, zipped or unzipped sweaters, hoodies, baseball t-shirts or totebags?" A real pain in the ass!

To help you, we wrote this blog article especially for you, so that you can figure it out and make the most appropriate choice. First of all, we're going to explain the silkscreen process so that you can shine in social dinners because you know precisely how your super merch is made, and it's going to help you figure out how to make your choices. Then we'll give you lots of tips to choose which products to take and accompany you on the choice of your designs.


Silkscreen Technique
Textile screen printing is an old technique derived from the stencil used to print a pattern on a flat surface.
Preparation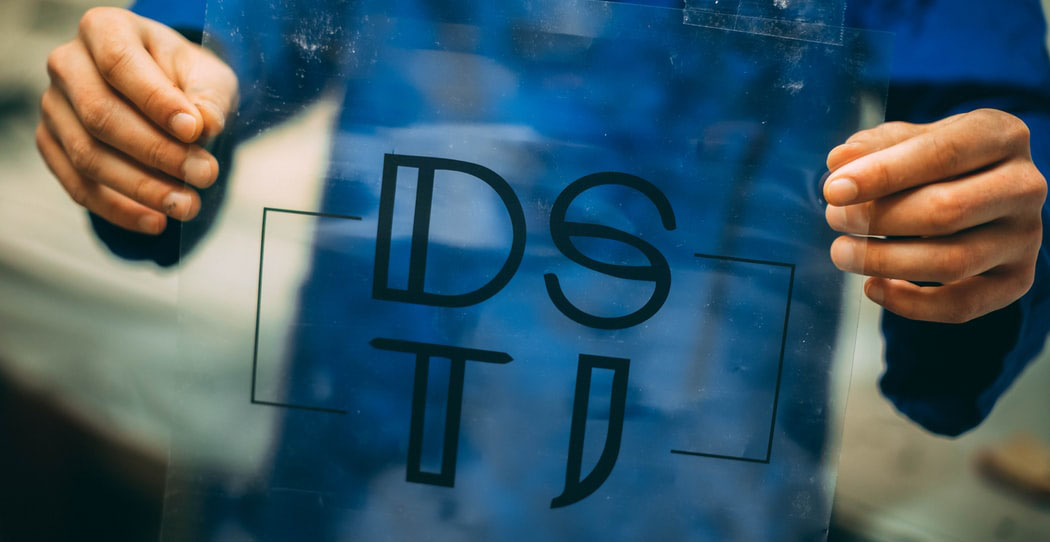 We print the pattern of your choice on a transparent film in opaque black. This film is called the mask.

A synthetic mesh screen is completely coated with a photosensitive product. On a glass table, the mask and screen are placed on top to hide the shape of the desired design. A source of UV light is placed under the table. These rays will harden the emulsion and thus clog the pores of the screen that are not protected by the mask.

Then, with a water jet, the emulsion is removed where it has not been hardened in order to free the pores of the screen to allow the ink to pass. The stencil is ready! You have to know that you need a different screen and mask for each color, because you apply the colors layer by layer. This is why the cost of your t-shirt will be higher or lower depending on the number of colors of your pattern.
Print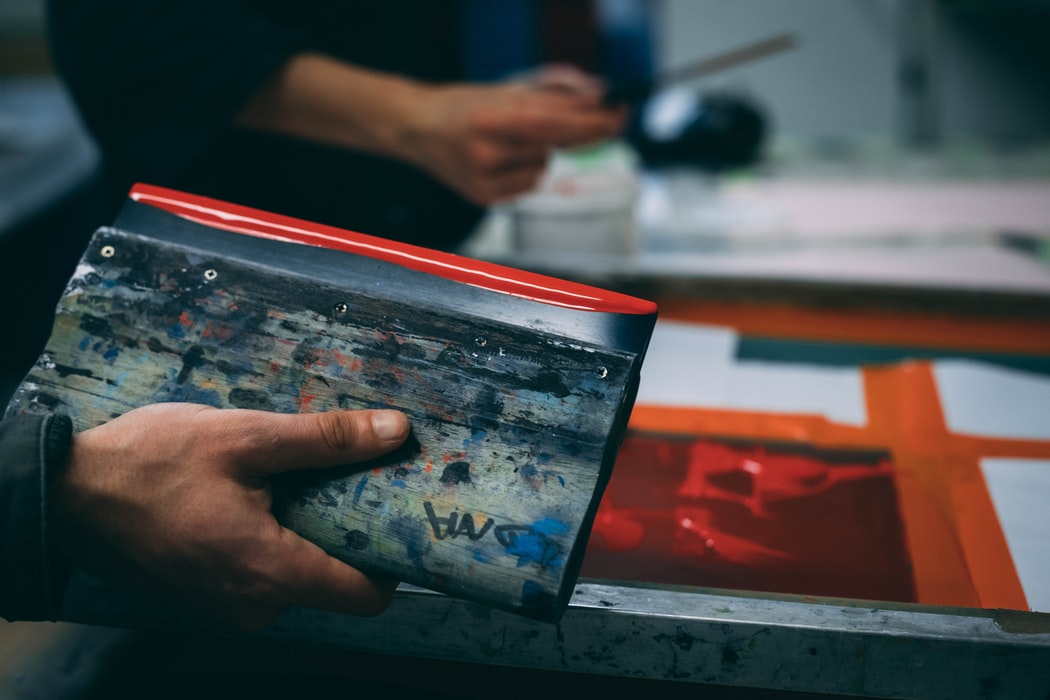 Once it's dry, we have to place the screen extremely precisely on a carousel. That's called cushioning. Every layer of ink must be perfectly overlayed. The textile is then put on top of a jeannette, making sure there are no folds. We can start printing. Ink is placed on the fabric of the screen, which is scraped by pressing to allow it to penetrate the open pores of the stencil. And we start the operation again for each color. You should know that on a dark t-shirt, you use a layer of white ink called "support white". This guarantees the respect of the colors chosen on your design.

Once all the colors are printed on the t-shirt, the last thing left to do is to dry it to fix the ink to the fabric.


How to choose the product and in which size?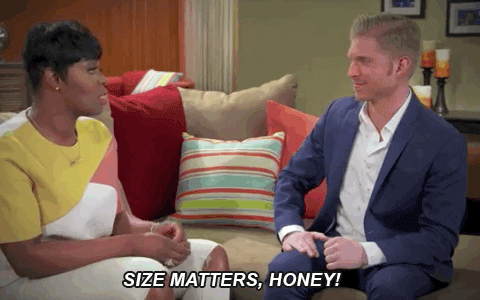 We are offering a large range of textile merchandising on our website. We're very nice so we'll guide you to choose the most adapted solution.

It's not easy to know what to choose between the unisex t-shirts, the hoodied sweat-shirt and the beanies. The answer lies within you. Yes ! You will choose the right thing regarding your musical universe and what your fans are wearing. For example : the snapback cap, the hoodie and the tanktop are must-have for any self-respecting metalcore fan.

Obviously, the unisex t-shirt is a must-have for any band but you have the choice between a straight cut that is more adapted to the metal audience or a curved cut that is more adapted to a pop or electro audience.

Caps and beanies are a good compromise for a diverse and kinda cheap merchandising. You'll find the most adapted thing : snapback, mesh cap, baseball cap or beanie, it's up to you! That's really cool and for a summer festival, your fans will be happy to wear your cap to protect them from the sun and support their favourite band. That's the same with the tote bag, very nice and cheap indeed. You can bring it everywhere and put your freshly-bought vinyls records into it.

Don't forget there are ladies who like your music and want to wear a t-shirt with your band logo on it. It would be a shame to not please the fangirls who come to your merch booth and see your wonderful pieces but don't find anything to their likings!

The little extra with Distrolution Merch: we're selling a Tour Pack which include t-shirts, zipped hoodies, square and rond stickers and buttons in the quantity of your choice! It's really cheaper when it's bough all together so think about it!

Regarding sizes, we're offering you from S to XXL. You're certainly asking yourself why : do you remember what we said about silkscreening ? The screen used to put patterns on the stencil is the same for every size, from XS to XXXL t-shirts. If we're making a medium-sized pattern it would probably be too large for an XS size and too little for a XXXL size. We want you to have the best merch ever so we can't accept to sell you big tees with a ridiculous logo in the middle of it.

Our professional advice: use a pattern with a size from 26cm to 30cm if you want it to look great on every size.

Of course we can make you a customized estimate if you want different size of patterns for textils from XS to 4XL. Anything for our dear customers!
Design : the biggest problem with merchandising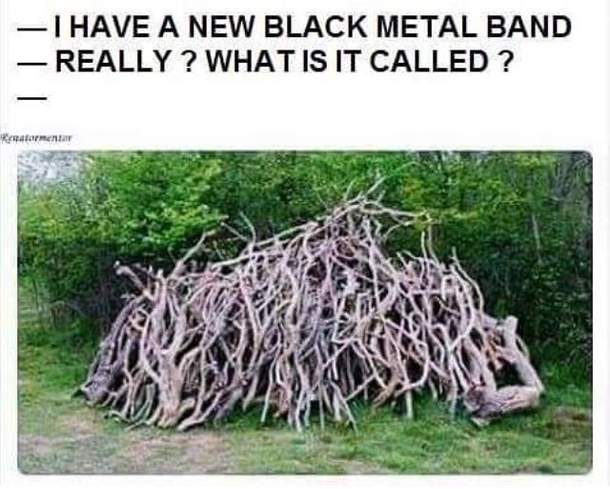 Now we'll be talking about design and we have to make one thing clear. For your design ideas, no matter if it's unreadable or finely detailed, a big illustration or whatever, ask some help from a graphist who knows silkscreening and not your cousin who have installed photoshop on his computer three days ago! There are important settings to take into account like the colour separation, the gradient dithering or the placement of the pattern on fabric.

In any case, we will control the sended design and that's included in the price. If you got a really cool design but no one can help you to adapt it on silkscreening, we can offer you this additional service on request.

It is important to work on the visual of your shirt so that it is attractive and your audience recognizes itself in it. A good white raw visual on a black t-shirt will certainly please any self-respecting black metal enthusiast, while a fluorescent green logo on a brown t-shirt will certainly make Gore-Grind fans happy. Besides, you might be using it for different clothes, so it would be a shame to waste all your merchandising collection with a quickie visual.

Your logo also represents your band so you need to be able to recognize it and create a sense of community among your fans, thanks to the graphic style, your band's name and typography, even a mascot… Be creative: the white logo on the black t-shirt is not a fatality.

It probably already happen to you that someone came to talk to you because they like the band on your tee-shirt. It's always a good moment!
Better over than under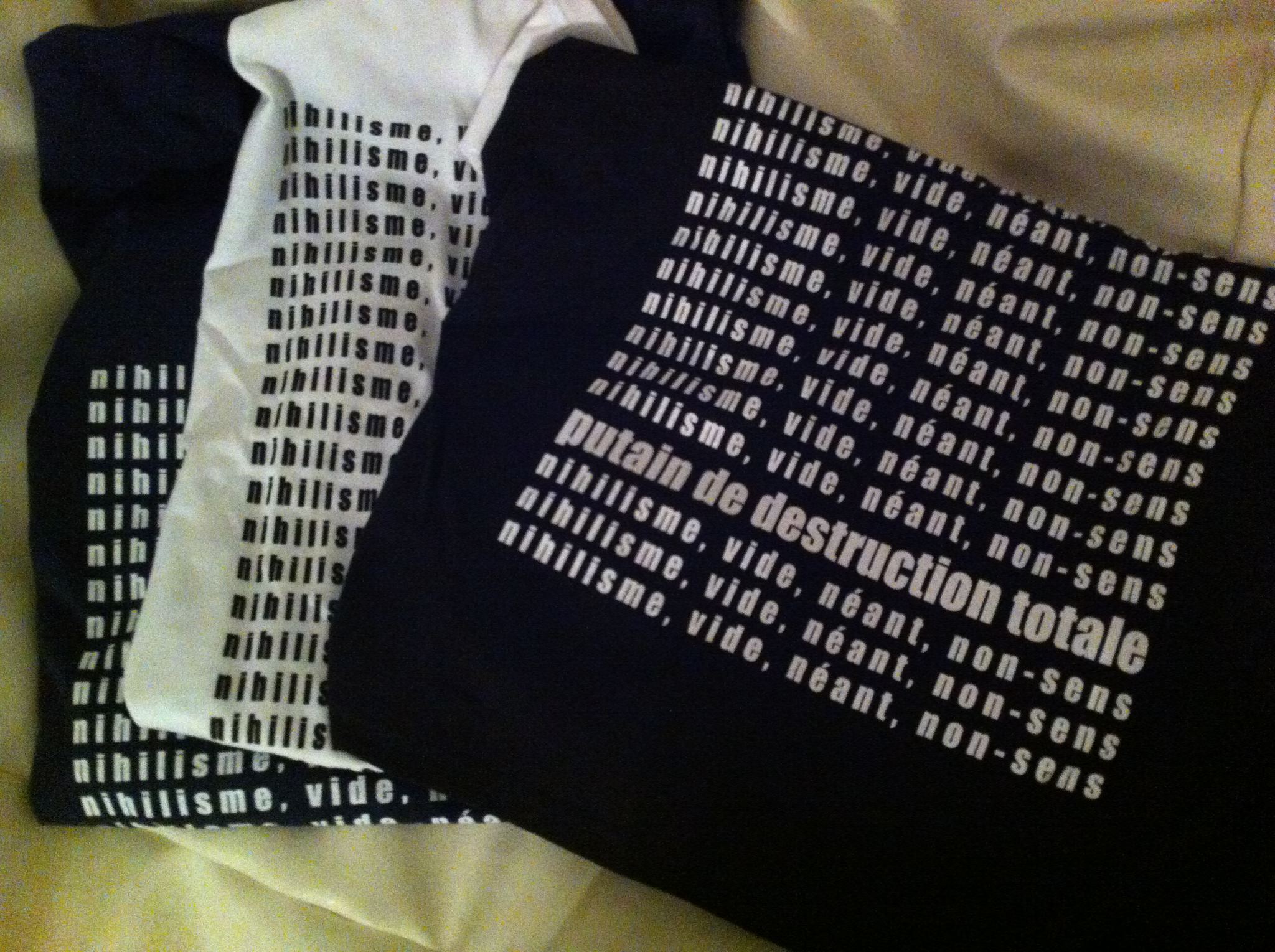 As for all of our items, the more you buy the lower the unit cost, so don't hesitate to have stocks. You don't end up sold-out and you can make more profits! In any case, at Distrolution Merch, you can make series from 25 units if you have a limited budget. If you want to create exclusivity by selling a small quantity of copies, or if you don't think you can sell a lot, then it's possible.

Our professional advice: the M and L sizes are the most-selled.

The amount of t-shirt you will order will depend on the budget you want/can put in your merchandising and the type of clothing you intend to offer. You can choose to make a design that will be declined on several models, for example t-shirts and tank tops, or create several models with different designs. There is no right or wrong strategy. But keep in mind that the more models you offer, the more likely you are to satisfy everyone's tastes!
Ready. Set. Go!
Now that you got plenty of advice to choose your fabric merchandising, you just have to place your order. Don't hesitate to ask our team if you got any question. We will answer you as quickly as possible.

And don't forget: choose your merchandising wisely with (if it's possible) diverse choices, ask a pro to make your perfect design and that's it!

If you liked the article, don't hesitate to share it on social networks! And if you want to be kept informed of our news whether it's the release of new blogs, new products or promotions, sign up for the newsletter just below!
Share this content