Reading time: 6min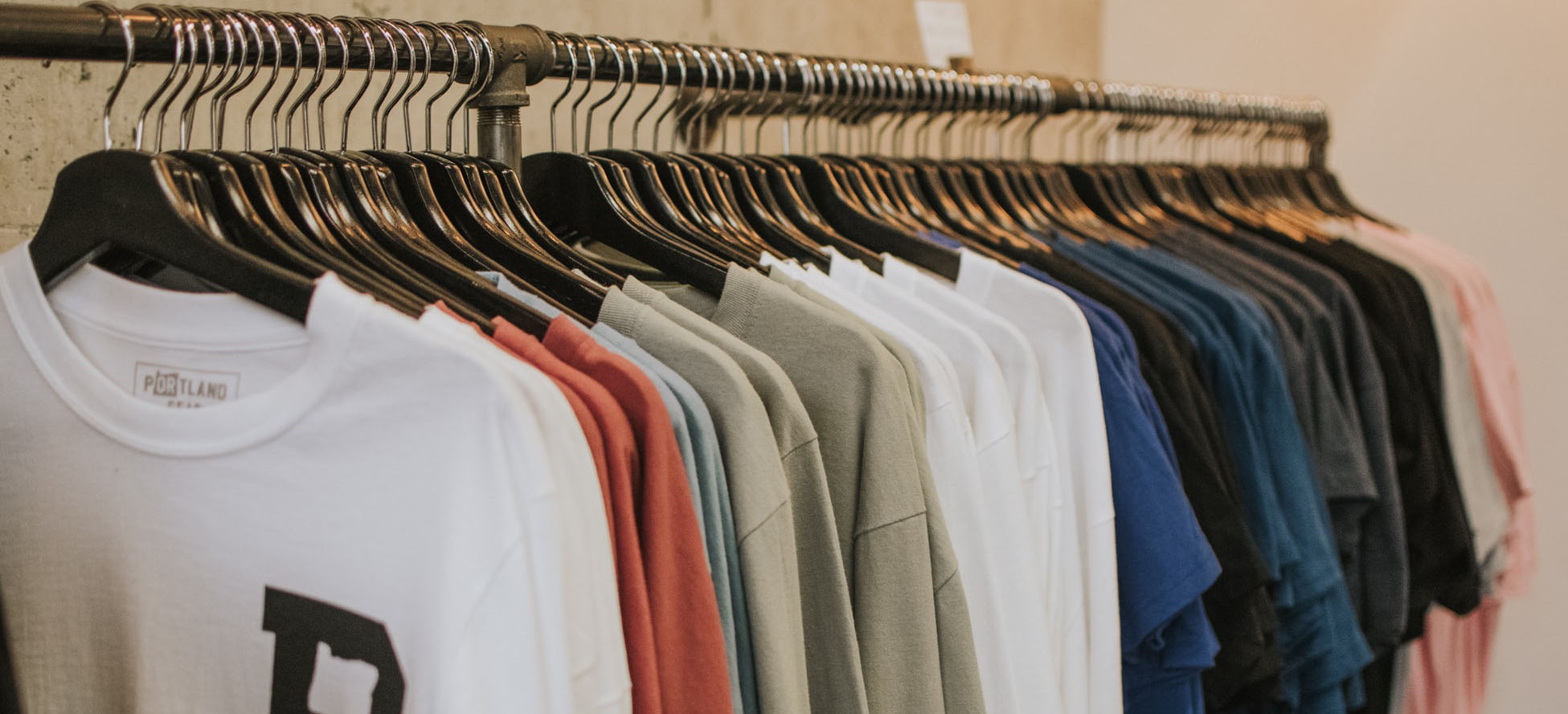 There are many various printing techniques to customize your merchandising and goodies.

How do I know which one is the best suited to my expectations?
Each technique has its advantages and disadvantages. It's essential to identify them well in order to make the best possible choice. Whether you want to make a short series of very colorful t-shirts or a large series of t-shirts with a single-coloured pattern, there is always a suitable solution that will allow you to optimize the cost of your needs.

To help you choose between all those options, we will introduce you to the different techniques we use: industrial embroidery, screen printing, digital marking, silkscreen transfer and stamp printing.
Industrial Embroidery Machine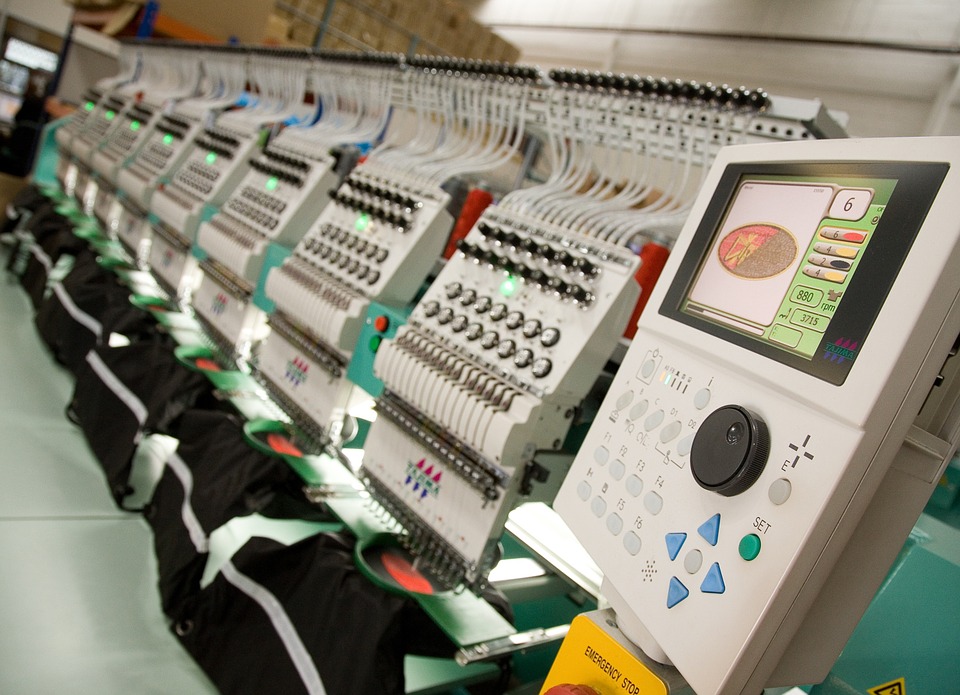 Embroidery is one of the first controlled-by-computer manufacturing techniques. It is considered to be the most noble and top-of-the-range textile marking technique with its embossed touch, pleasant feel, robustness and durability. Obviously, this superior quality requires a higher price than other techniques such as screen printing.
You can choose a pattern with as many colors as you want without it influencing the price but keep in mind that you can't make gradations. The size of the embroidery area will determine its higher or lower cost. That's why we mostly use it for little things such as patches, caps and polos.

The small technical part: The machine is controlled by a computer, it has a system that keeps the embroidery area in place. The computer automatically moves this area according to the programmed pattern.
Screen printing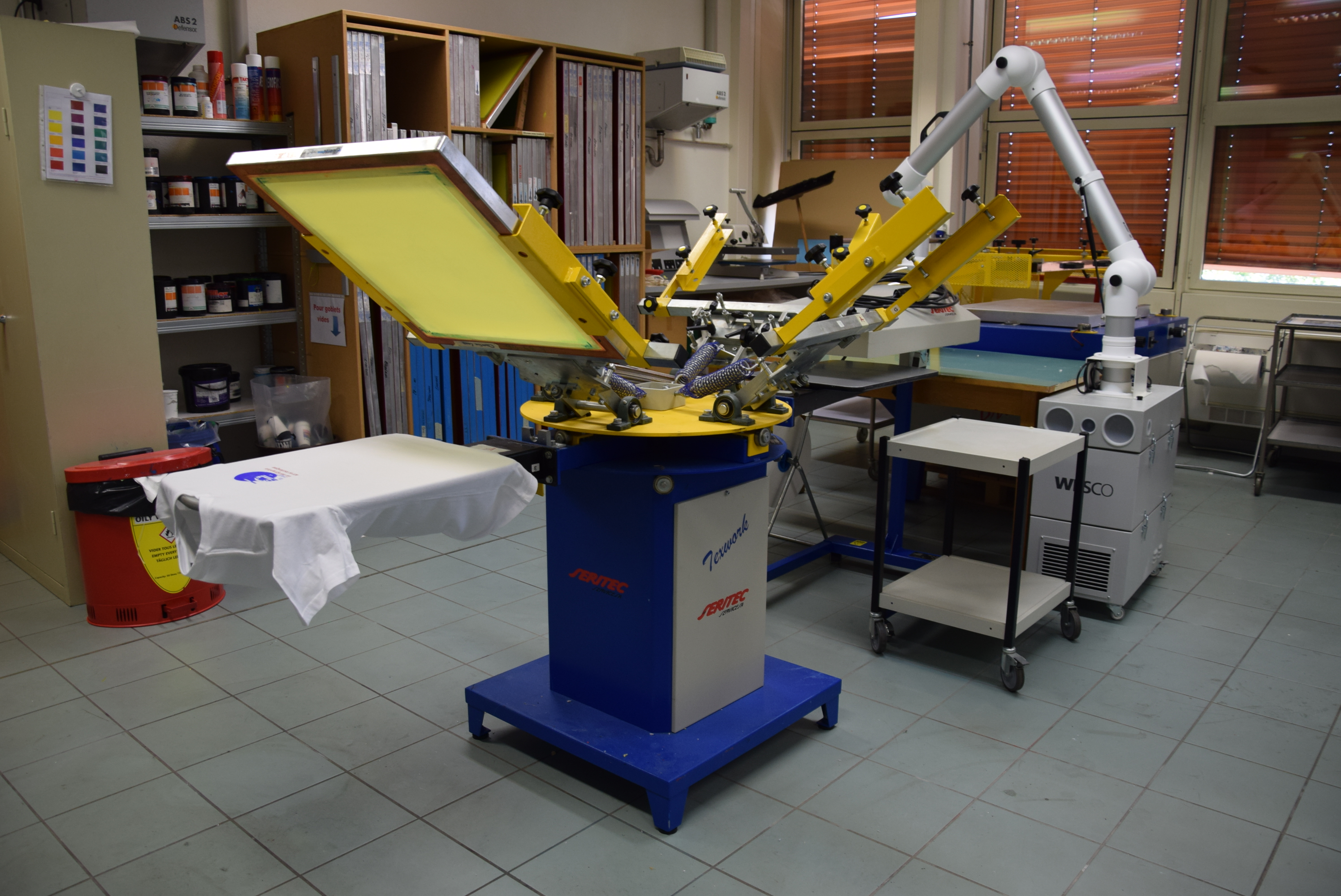 Screen printing is derived from stencil and one of the oldest textile marking techniques. We use it to customize t-shirts, sweaters, patches and totebags. It consists of printing one pattern per layer of color, so the more colors there are on the pattern and the higher the cost will be. It is therefore one of the most cost-effective techniques for large series with few colored patterns. The quality is impeccable and leaves a pleasant feel to the touch.
 
There is a restriction: the fact that in order to fix the colour, the ink must be exposed to a high temperature so it is advisable to use this technique only on fabrics composed mainly of cotton.
If you want more information about the screen printing process, you can also read our article: "Merchandising: fabrics".
Direct to garment (DTG) or digital marking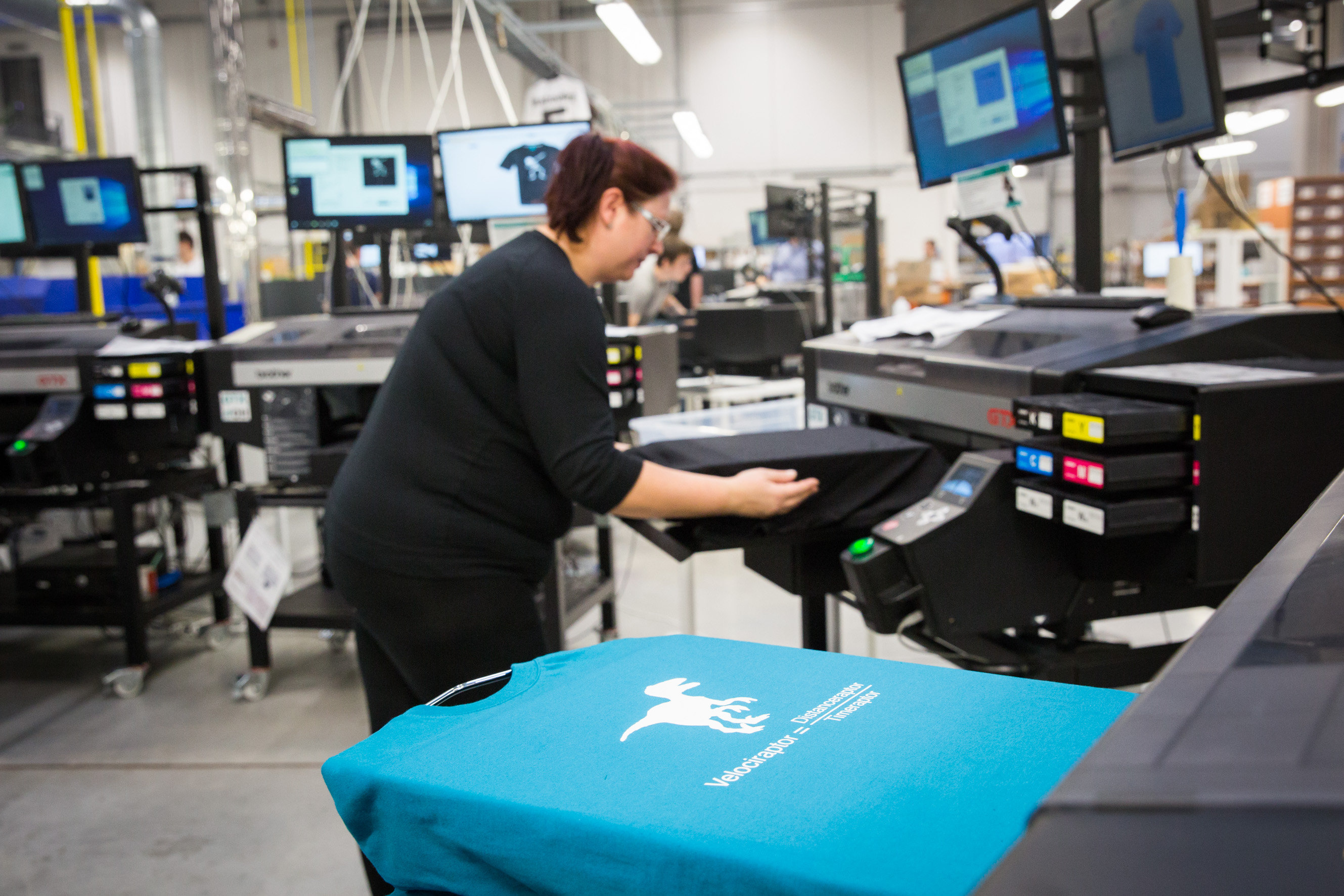 Digital marking is the latest invented technique. The pattern is printed directly on the t-shirt with a high-definition inkjet printer. The ink absorbed by the fabric leaves a smooth, uniform and matte impression. For dark fabrics, a white undercoat is first printed in order to preserve the brightness of the colours. This constraint makes the printing more expensive on dark fabrics. This technique is only suitable for fabrics composed of at least 70% cotton. It allows to print detailed and bright patterns colored with gradients. It is generally more cost-efficient on small series.

Serigraphy Transfer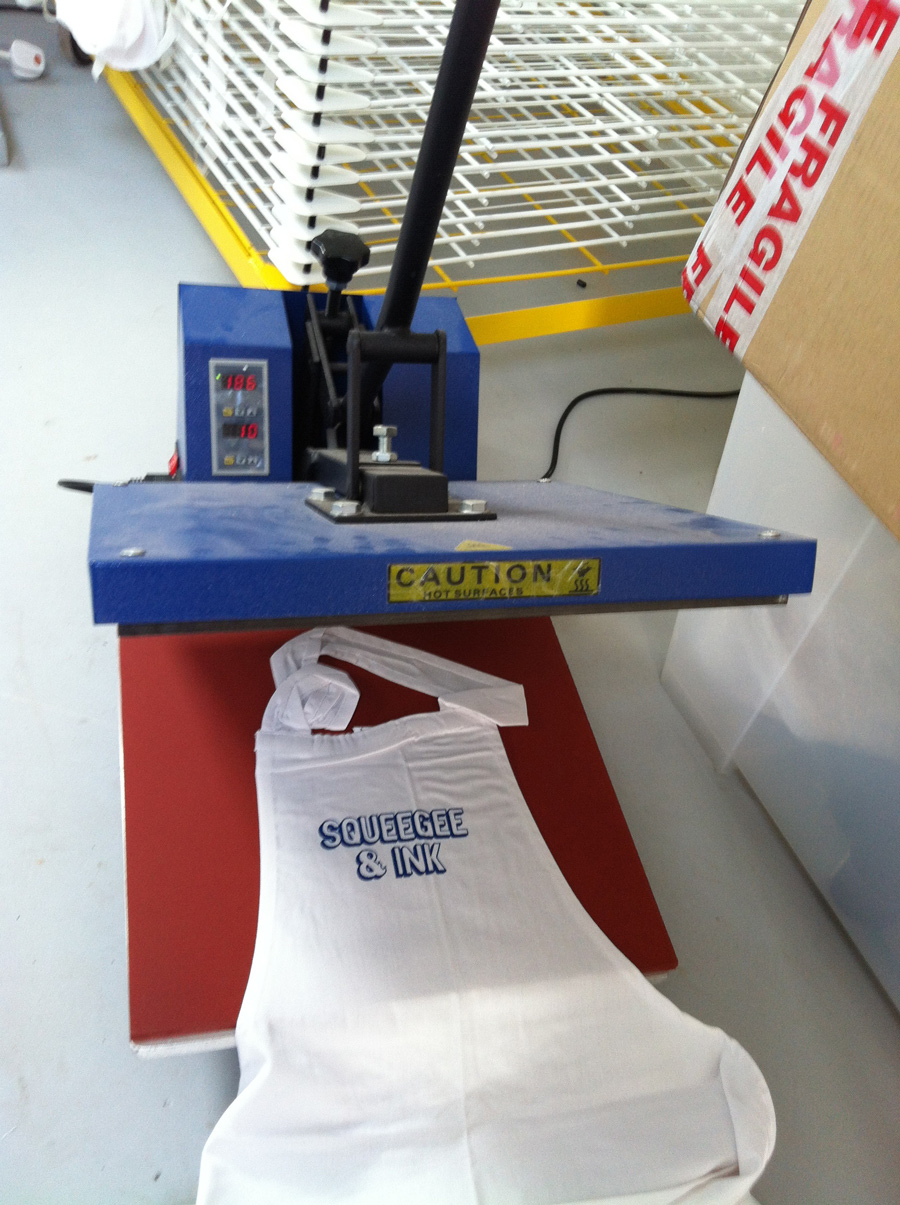 The silkscreen transfer is a mix between the classical transfer technique and the silkscreen printing. It's about silkscreening a transfer sheet and sticking it hot on a garment no matter the material, leaving a thin pattern with a nice feel. The colour of fabrics does not change the cost of transfer since the designs is transfered on it, however the quantity of colors of the printed pattern got an influence on the cost.

Since the fabric is not inked, the marking is less durable in the long term than conventional screen printing. The silkscreen transfer is therefore less profitable for larger series since it requires one-by-one screen printing. The transfer sheets must be glued to the t-shirt. This adds an additional step to the customization if we compare it to screen printing. The result remaining is still of good quality with fine details and impeccable contours.
Stamp Printing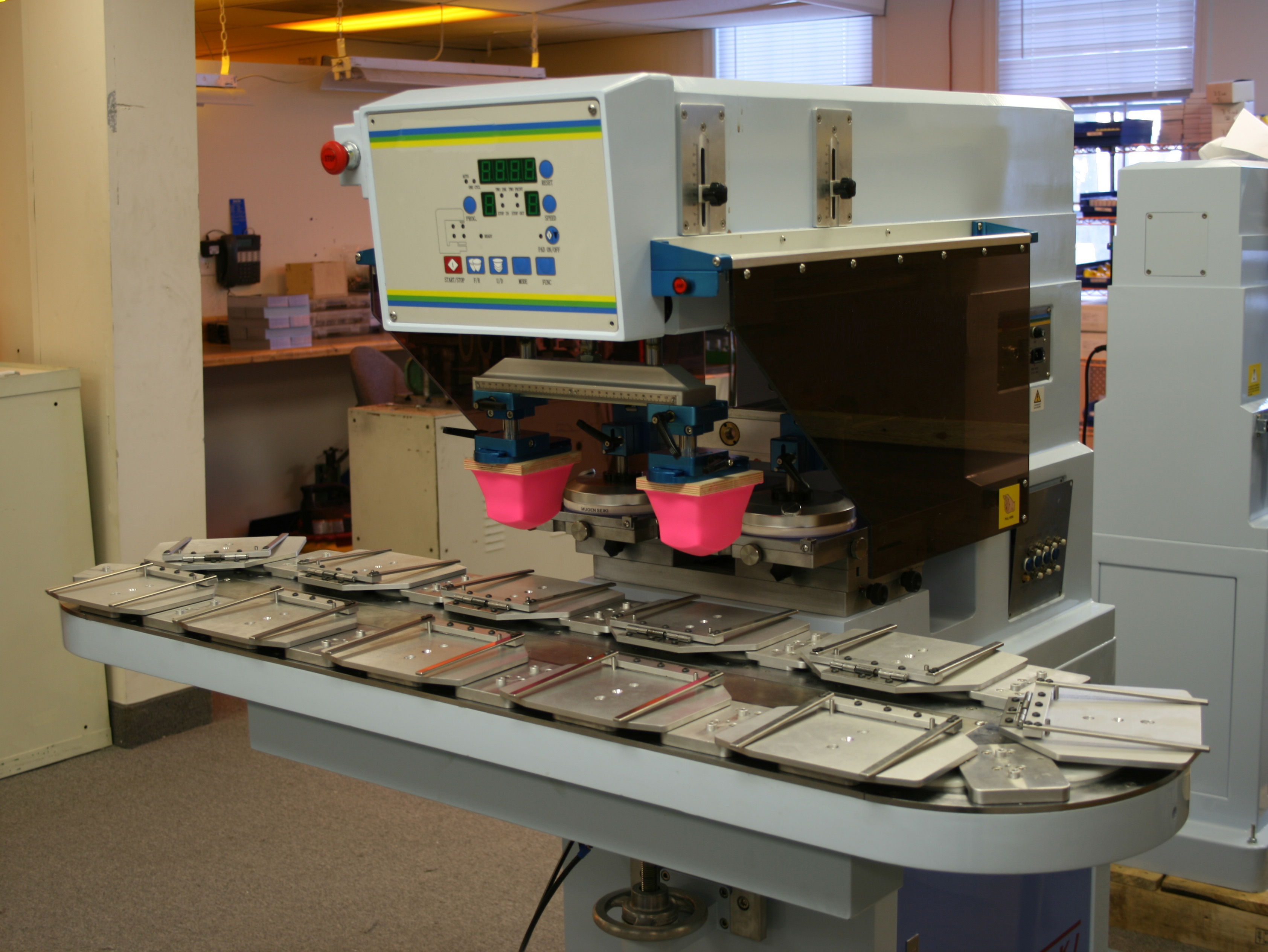 Stamp printing is a praised customization technique for goodies. It allows to print with a stamp any type of support quickly and at a low cost, for large or small series. Nevertheless it has some constraints. It is not advisable to stamp flexible fabrics or textile supports. Since this technique is not the most precise, it's not the most suitable to print patterns with several colors or to make frames.

Some technical details: The stamp leaves a thin layer of ink. This ink is more or less long to dry depending of the fabric used. It is not advisable to dishwash goodies that have been stamped at risk of altering the pattern.



In short
Here is a brief board for you to really understand the differences between each marking technique. Don't hesitate to read it carefully before placing your order to be sure to make the best possible choice for you and your band. In any case, at Distrolution Merch we always advise you before starting the production because we want you to be completely satisfied with your order. Don't hesitate to give those advices to your friends by sharing it on social medias!


Customization
Techniques
Pros
Cons
Embroidery
High-end

Pleasant to the touch

Solid
Higher cost than other techniques

Can't be made on every fabric

Gradations are impossible
Screen printing
Cheap for large batches with one or two different colours

Pleasant to the touch

Long-lasting
Higher-priced when there is more than two different colours

Not very cost-efficient for
little batches

Mostly suitable for
100 % cotton fabrics
Digital printing
Smooth and flat feeling

Cheap for nuanced patterns

Gradations are possible

Suitable for little batches
Gradations are possible

Suitable for little batches

Higher-priced than screen printing, especially for big patterns

Higher-priced for dark fabrics
Serigraphy Transfer

Allows to mark different types of supports (cotton, polyester)

No additional costs for dark fabrics


Thin layer for a smooth feeling

Higher-priced based on the number of colours needed

Less durable than screen printing

Higher-priced than screenprinting for large batches
Stamp Printing
Best technique for goodies

Perfect for unicolour patterns

Quick and cheap
Not fitted for textil fabrics

Only for one colour

Not suitable for flexible objects